Check out the new website (work in progress)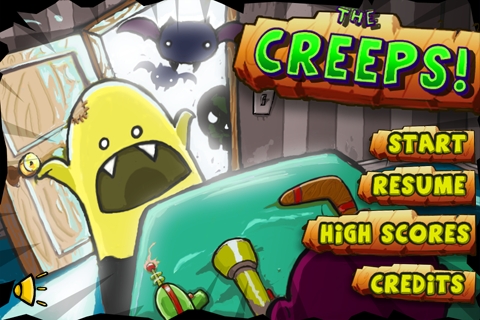 The Reviews Are In!
"The Creeps is a game you should be playing NOW" -
Macenstein.com

"The Creeps! Tower Defense is Challenging and Fun" -
TouchArcade.com

"It combines all best features of existing TD genre games" -
iGameMe.com


"The obstacles add an interesting twist to tower defense" -
OSXReality.com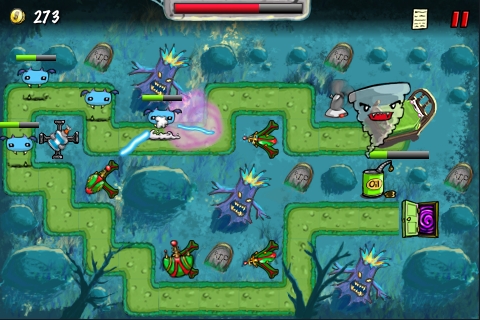 The Creeps!
is a unique and addictive "tower defense" style game. For those unfamiliar with this genre, it's easy to learn. Enemies will follow a path. Build and upgrade defensive "towers" to destroy them before they reach the end of the path. It's very simple, but it requires some strategy too!

Creeps that live in your closet are coming to get you! Defend yourself with toy blasters, glue bottles, flashlights and boomerangs. Summon a giant spider to slow your enemies, or a UFO to sap thier energy! Slick the path with oil to make the Creeps slide fast down hill and climb slowly up hill. Or command a tornado to pick the Creeps up and carry them along the path in any direction!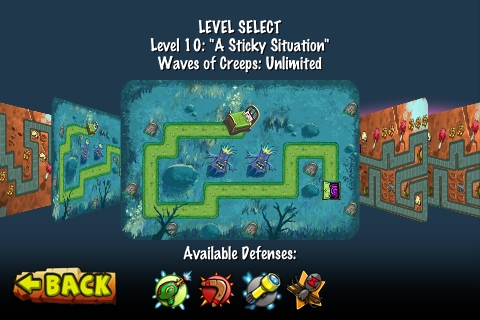 FEATURES:


-Quirky and fun sound effects. Don't worry, you can still play your own music in the background!
-A simple and intuitive interface
-16 different stages in 2 unique locations (with more to come in future updates!).
-10 Unique Creeps, plus Bosses
-2 Unique mega-bosses!
-Full accelerometer support for gameplay never before seen in a tower defense game!
-4 towers with 3 levels each
-4 accelerometer based super-towers
-Obstacles that are fully destroyable. Should you build a tower on an empty spot? Or should you destroy an obstacle to clear the way for new towers? It's up to you!
-Automatically saves mid-game when you quit or are interrupted by a phone call. You can always pick up right where you left off.
-Target enemies or obstacles with a single tap!
-Build, sell and target while the game is paused
-Beautiful hand drawn graphics
-Free updates!


People who enjoyed Fieldrunners, TapDefense and Besiegement will love "The Creeps!"

** As with all apps, please turn your iPhone/iPod Touch off and then back on after installing to prevent crashes
Buy it from iTunes